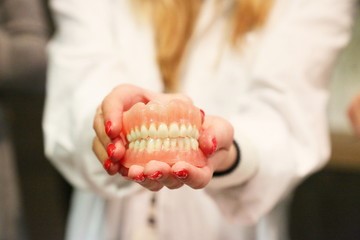 Do you wear partial, full, or implant dentures to fill in your gapped grin? Recognizing the right moment to replace dentures is essential for oral health and function. Whether you currently use dentures or consider them for tooth replacement, understanding these telltale signs is key to a comfortable and effective experience. Continue reading to delve into the following five indicators for denture replacement.
#1: Mouth Irritation
Effortless eating is a pivotal sign of properly fitted and well-kept dentures. Any discomfort or irritation during meals might signal a need for denture replacement. Additionally, don't overlook gum sores, lesions, or any gum alterations, as they may indicate denture-related problems necessitating swift dental intervention. Timely response is vital for sustaining oral health and comfort.
#2: Changes in How they Fit
As time passes, alterations in the underlying bone structure can impact denture fit. Although properly fitted dentures should offer a secure connection with your gums, changes in the bone structure may lead to looseness or even dislodgment during speaking and eating.
Should you notice your dentures becoming loose or frequently dislodging, it's crucial to consult your dentist for potential adjustments or replacement. In the interim, consider using denture adhesive as a temporary fix to reduce excessive movement and enhance stability.
#3: Trouble Speaking
Ill-fitting dentures may hinder your speech, leading to slurring or mispronunciation. If you encounter these challenges, seeking advice from your dentist is essential. They can evaluate your dentures, perform needed modifications, or suggest replacement to rectify the problem and restore your speech clarity.
#4: Stains
While proper care can prevent discoloration, dentures may gradually develop a slight yellowing over time. Consuming highly pigmented beverages like tea, cola, coffee, or wine can also contribute to staining. To regain a bright smile, consider denture replacement for a restoration of pearly white aesthetics.
#5: Damage
Discovering cracks, chips, or loose teeth in your dentures signals the need for repair or replacement. Moreover, a broken denture base affects functionality, demanding replacement. Consulting your dentist is essential for the right denture care, averting potential oral health problems like TMJ disorder. Timely evaluation and assistance guarantee optimal oral function and well-being.
It is important to stay vigilant and keep an eye out for these five warning signs of denture issues to uphold oral health and self-confidence. Regular dental check-ups will sustain a lasting, beautiful, and functional smile!
About the Practice
Drs. Krunal Patel, Poorvi Gandhi, and the dedicated team at Advanced Smile Design in Willow Grove are devoted to enhancing smiles. Their services encompass reliable, enduring dentures to complete smiles and boost the confidence of those who wear then. They also excel in denture replacements and repairs as well. If you want to explore denture options offered by Advanced Smile Design or to schedule an appointment with Dr. Patel of Dr. Gandhi, contact them at (215) 659-3334 or visit their website.