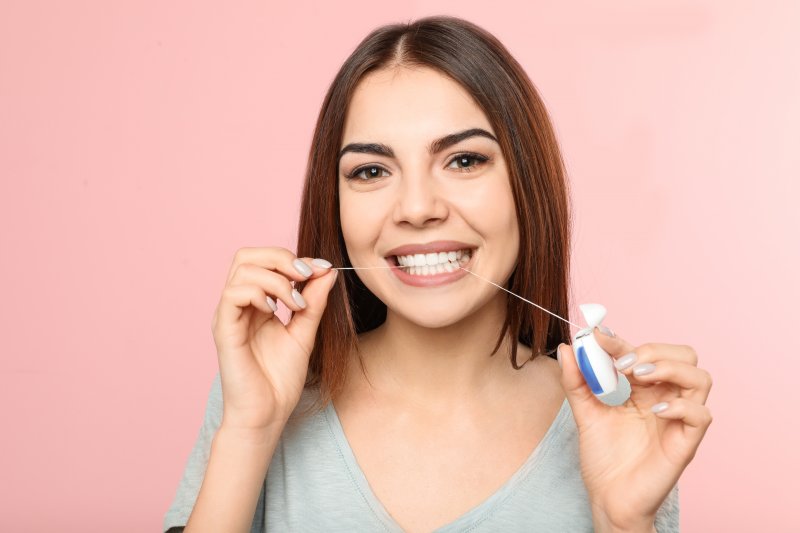 Everyone has heard that maintaining clean teeth is essential to your oral health. This is especially the case when it comes to wearing clear braces like Invisalign. Since these aligners are removable, it's vital that you brush your pearly whites after every meal. But did you know a floss can do you more good than brushing can alone? Read on to find out why flossing with Invisalign in Willow Grove is so important for your teeth and how to do it properly.
Why is Flossing so Important with Invisalign?
Keeping good dental hygiene is the key to a healthy mouth, and brushing and flossing is the first step to doing this. Brushing can clear away a majority of debris from your smile, but the spaces in between your teeth are still vulnerable to bacteria and plaque when flossing isn't performed. This is especially the case when wearing Invisalign.
These clear braces are usually worn 22 hours a day, which can allow for a perfect environment for bacteria growth. By keeping an enclosed space for germs, you can end up increasing the possibility for dental issues in the future. To prevent this, you only need to floss after every meal and before you place your aligners.
The Proper Guide to Flossing with Invisalign
Now that you understand the importance of flossing your teeth, you'll want to know the proper way to do so. Here are the four main steps to flossing with Invisalign:
Step One—Remove Your Aligners: You'll likely have already taken off your aligners since you just finished eating, as chewing food or drinking anything other than water can damage them. Soaking your aligners while you eat can ensure they remain clean and bacteria free, or you can keep them safe and sound in their case.
Step Two—Brush Your Teeth: This is important to clear away most food particles from the exposed surfaces of your teeth. Even though the bristles of your toothbrush won't reach the tight spaces, brushing the recommended two minutes can clear as much as possible.
Step Three—Rinse Your Mouth: The secondary way to break food particles loose is to swish water or mouthwash around your mouth. The pressure should dislodge more debris, especially after brushing, and you can always swish repeatedly until you think you've removed what you can.
Step Four—Floss: Using a thin floss, the goal is to remove food particles, sugar, bacteria, plaque, and tartar by gliding the string up and down between your teeth. Make sure to work the floss by creating a "C" around each side of the teeth, and then use a clean portion of the string for the next section of teeth.
After a while, you'll notice this routine only takes a few minutes to perform, while achieving a great deal for your dental health. Once you've completed your Invisalign treatment, you'll be glad you kept your teeth thoroughly cleaned and healthy for your perfect smile!
About the Practice
Advanced Smile Design provides high-quality and comfortable dental services for Willow Grove, PA and the surrounding communities. Using the latest in technology, their team offers a vast collection of treatments for the whole family, including Invisalign. If you want to know more about the importance of flossing with Invisalign, visit their website or call them at (215) 659-3334.