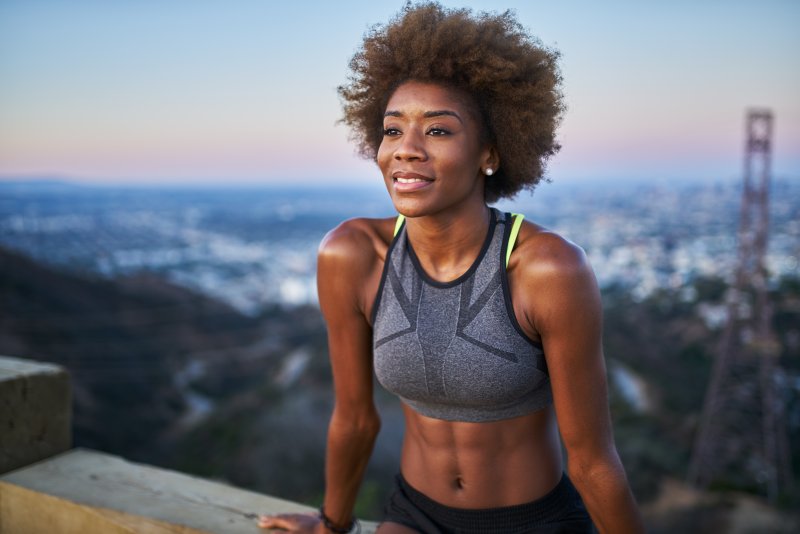 Recently, you decided that you're going to start taking better care of your body by exercising a few times per week. Though working out is good for your overall wellbeing, it can have a negative impact on your oral health if done incorrectly. Read on to learn more about the link between fitness and oral health in Willow Grove as well as how to keep your smile out of harm's way.
#1: Be Wary of Nutrition Bars
Contrary to what advertisements may state, nutrition bars aren't as healthy as they seem. They often contain sticky foods like raisins and dates, which are difficult to wash away. Because of this, they stay in contact with your teeth for an extended time and give harmful oral bacteria plenty to snack on. Nutrition bars also tend to contain a lot of sugar, which also makes your teeth more vulnerable to decay.
#2: Skip Sports Drinks
Electrolytes, which can be found in sports drinks, help your body maintain a healthy water balance as well as good muscle and heart health. Even so, the extreme acidity and large amounts of sugar contained in sports drinks contribute to cavity formation. Drink water instead to limit your sugar intake, wash away bacteria, and balance out the pH levels in your mouth.
#3: Breathe Through Your Nose
Mouth breathing after an intense workout may be tempting, but this can negatively impact your oral health by causing your mouth to dry out and produce less saliva. If there is inadequate saliva to wash away plaque and bacteria, this can lead to increased levels of plaque, which puts you at a higher risk of cavities.
#4: Protect Against Oral Injuries
If you play contact sports like hockey or football, falling or getting hit in the face or jaw can damage your lips or teeth. Wear protective gear such as helmets and mouthguards to protect your head and mouth from harm. They can be purchased at sporting goods stores, or you can ask your dentist for a custom-made mouthguard.
#5: Avoid Jaw Clenching
While participating in physical activities, some people clench their jaws without even realizing it. This triggers the release of cortisol, a stress hormone, which may contribute to jaw misalignment and airway constriction. Jaw clenching also puts additional pressure on tooth enamel, which causes it to wear down more quickly. Continuous stress in the jaw joints may also trigger bruxism, or nightly teeth grinding. This can lead to chips, cracks, or increased tooth sensitivity. Try not to clench your jaw while doing physical activities to avoid this issue.
Next time you work out, keep the above things in mind to avoid negative consequences to your oral health. With these tips, you can keep your smile safe and sound as you continue on your journey towards better health!
About the Practice
If you're concerned with keeping your mouth in good shape as you make your way towards a healthier body, Advanced Smile Design is here to help. They provide exceptional care to patients of all ages and can provide tips and tricks on how to avoid dental problems by protecting your teeth and lips from harm. Call Advanced Smile Design at (215) 659-3334 or visit their website to learn more about the connection between fitness and oral health in Willow Grove.