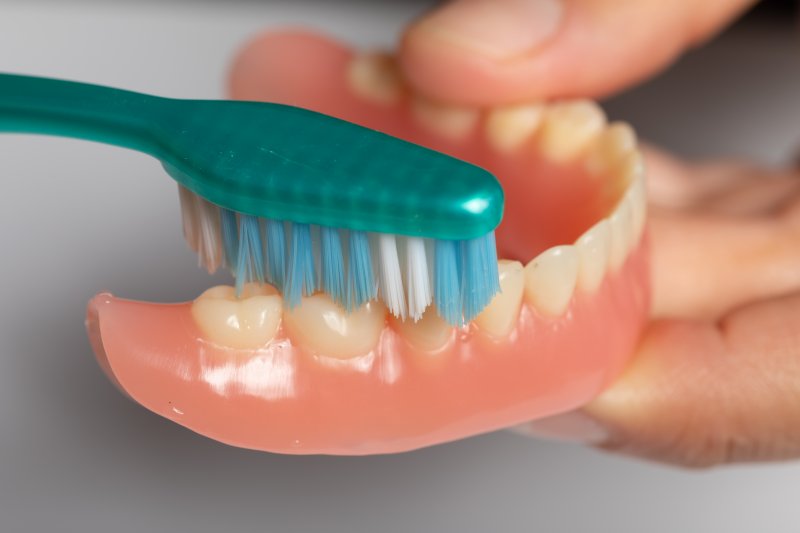 Maintaining your dentures is crucial for a comfortable and healthy smile. If you constantly find yourself strapped for time or energy, you might be tempted to cut corners on your oral hygiene by brushing your dentures while they're still in your mouth. This might seem like the more convenient approach, but is it effective or even recommended?
The answer to this question, along with practical tips for complete denture cleanliness, is provided below.
Can You Brush Your Dentures in Your Mouth?
The answer to the question at hand is yes, but just because you can doesn't mean it's optimal or effective. If you're going to brush your dentures while wearing them, there are a few things you should consider.
First, use a wet brush only. Commercial toothpaste contains ingredients that may damage the surface of your prosthetics, leaving them dull or worn-looking. Utilize a soft-bristled toothbrush and gently scrub in a circular motion to break up any food particles that may still cling to them.
Afterward, you'll still need to clean any remaining natural teeth you have with regular toothpaste and remove your dentures to clean every other surface to ensure a total cleanse has been performed.
Once every surface of your dentures has been cleaned, you can place them in a glass of cold water to soak.
Do I Have to Remove My Dentures to Clean Them Properly?
Brushing dentures while they're in your mouth isn't the best approach for maintaining their cleanliness and hygiene.
Although brushing them like your natural teeth may seem familiar, dentures require unique care to function well and maintain their appearance throughout their lifespan.
How Do I Properly Care for My Dentures?
To ensure the best cleanse for your dentures, here is a checklist you can follow. This is the most efficient process for a complete and thorough wash, as recommended by experts:
Remove your dentures over a towel on the sink to help prevent damage if you happen to drop them.


Gently brush all around your dentures with a soft-bristled toothbrush. Don't use toothpaste.


Brush your gums and remaining natural teeth with regular toothpaste to keep your mouth fresh and clean for continued use of your prosthetic.


Keep your dentures soaking in a glass of water when you go to bed to keep them moist.


If your dentures begin to develop tartar (rough patches of mineralized plaque), you can soak them in a solution of one part vinegar to four parts water instead.
Following this list from top to bottom will speed up your daily routine and ensure that your dentures are fresh and look their best every day. The condition of your teeth is an important component of your confidence and self-image, so beginning each morning with a bright, healthy smile will set you up for success.
About the Practice
Dr. Poorvi Gandhi and Dr. Krunal Patel have established that compassion, dedication, and honesty are the core values of a good dental practice like Advanced Smile Design. Both dentists are active members of the community who believe that giving back is the best way to show appreciation. To schedule an appointment or discover other treatments available at Advanced Smile Design, visit the website here or call (215) 659-3334.