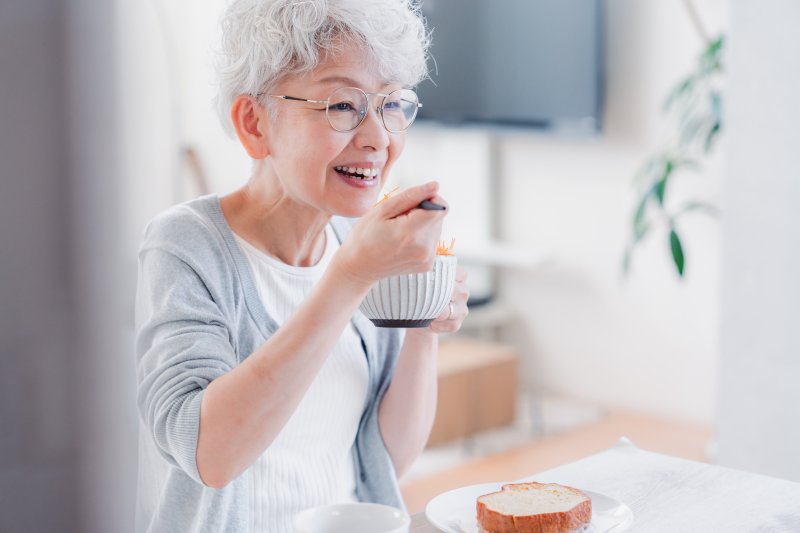 Now that you've restored your complete smile with dentures, you'll be set to enjoy the many benefits that come with wearing your prosthetics. Not only will they look and act like natural pearly whites, but you'll feel more confident in showing off your grin. However, when it comes to eating with dentures, there is a learning curve that can be challenging for some. Keep reading to learn five essential tips to help you get used to munching on your favorite meals with your new prosthetics.
#1: Stick to Softer Foods
Although dentures are designed to help restore your bite, it'll take some time to grow accustomed to them. Instead of jumping straight into any kind of meal, you should consider eating foods that are softer and easier to digest. These can include yogurt, oatmeal, applesauce, and mashed potatoes. Since you won't need to chomp down or grind excessively, you'll have enough time to learn how your dentures work.
#2: Double-Check the Temperature
The last thing you'd want is to accidentally damage or warp your dentures, making them not fit correctly. Additionally, you don't want to accidentally harm or burn your mouth while eating, as your prosthetics won't typically allow you to accurately judge the temperature of your meals. For this reason, you should touch your food against your lips to test how it is before continuing. You'll keep yourself and your dentures safer this way.
#3: Use Both Sides of Your Mouth
Having gaps in your smile can often cause you to use one side of your mouth more than the other when eating. This, however, can cause your prosthetics to possibly shift out of place, as the pressure won't be evenly distributed. Make sure to chew on both sides to get accustomed to using all of your brand-new teeth.
#4: Keep Away from Spicy Ingredients
Most patients tend to experience some mild soreness or sensitivity in their gums when first wearing dentures. While your soft tissues will get used to your new teeth over time, you should try avoiding spicy ingredients, such as hot sauce, which can worsen the irritation.
#5: Be Patient with Yourself
Good things come with time, and it's the same with getting used to your dentures. When you first get them, make sure to take it easy and start slowly. After some practice, your prosthetics should begin to feel more and more natural. Before you know it, you'll be able to show off your pearly whites while fully enjoying all your favorite meals!
About the Author
Dr. Krunal Patel has been delivering essential and passionate dentistry for well over a decade. He studied at the New York University College of Dentistry and is an active member of the American Dental Association and the Academy of General Dentistry. If you'd like to know more tips on how to make the most of your dentures, feel free to visit our website or call us at 215-659-3334.