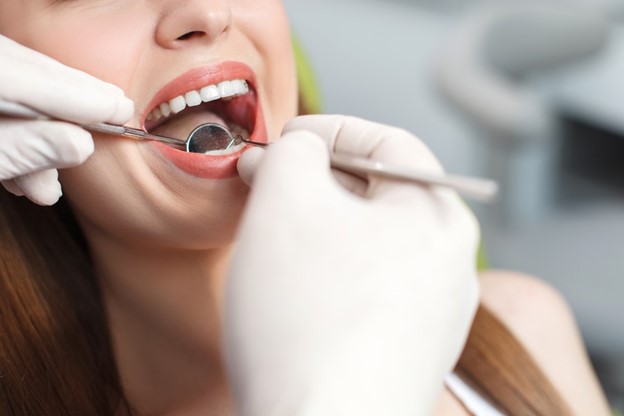 April is recognized as Oral Cancer Awareness Month, highlighting the importance of early detection and prevention of oral cancer. Oral cancer affects various parts of the mouth, including the lips, tongue, gums, and the roof or floor of the mouth. It can also spread to other parts of the body if not diagnosed and treated promptly. Knowing the risk factors and symptoms of oral cancer can help individuals take proactive measures to protect their oral health. Keep reading as we explore the risk factors of oral cancer and what you can do to reduce your risk.
11 Common Oral Cancer Risk Factors
Oral cancer can affect anyone, but certain risk factors increase the likelihood of developing it. Here are some of the common oral cancer risk factors to be aware of:
A family history of oral cancer or other types of cancer
Age, commonly occurring in people over 40 years old
Exposure to sunlight, which can lead to lip cancer
Other types of head or neck cancer
A diet low in fruits and vegetables
HPV (Human Papillomavirus)
A weakened immune system
Heavy alcohol consumption
Poor oral hygiene
Tobacco use
8 Tips for Minimizing Your Risk of Oral Cancer
Here are eight tips to help minimize your risk of developing oral cancer:
Avoid tobacco and excessive alcohol consumption: These two habits are the leading causes of oral cancer, so quitting smoking and limiting alcohol intake can significantly reduce your risk.
Protect your lips from the sun: Use a lip balm or lipstick that contains sunscreen with an SPF of at least 15 to protect your lips from harmful UV rays.
Schedule regular dental checkups: Your dentist can check for signs of oral cancer during routine dental exams, so it's important to schedule regular visits.
Eat a healthy diet: A diet rich in fruits and vegetables can provide essential vitamins and minerals that can help prevent cancer.
Know the signs and symptoms: Be aware of any changes in your mouth, such as sores, lumps, or white or red patches, and see your dentist if you notice anything unusual. Early detection can greatly improve the chances of successful treatment.
Maintain optimal oral health – Brush twice daily for two minutes, floss nightly, and regularly use an antibacterial mouthwash.
Lead a healthy lifestyle – Limit sugary, acidic, and starchy foods and drinks, and maintain a balanced diet and exercise routine to boost your immune system.
Drink plenty of water – Water is crucial for maintaining optimal oral health. It helps to remove food particles and bacteria, keeps the mouth moist by stimulating saliva production, and rehydrates the body.
About the Practice
Advanced Smile Design, situated in Willow Grove, is a reputable dental clinic run by Dr. Krunal Patel and Dr. Poorvi Gandhi. Their team offers exceptional customer service and tailored care to individuals of all ages. They provide comprehensive dental services, including routine checkups and oral cancer screenings, to ensure that your oral health is in top condition. With their dedication to the latest dental techniques and personalized care, they are your perfect dental partner. To book an appointment or to know more about their services, contact Advanced Smile Design at (215) 659-3334 or visit their website.